Modernity and Contemporaneity
Synopsis
Modernity and Contemporaneity is the 3rd volume in the Hellenic-Serbian Philosophical Dialogue Series, a project that was initiated as an emphatic token of the will and commitment to establish permanent and fruitful collaboration between two strongly bonded Departments of Philosophy, this of the National and Kapodistrian University of Athens, and that of the University of Novi Sad respectively. This collaboration was founded from the very beginning upon friendship, mutual respect and strong engagement, as well us upon our firm resolution to establish a solid continuity in the editing project. The publication of this volume allows us to entertain feelings of contentment and confidence that this objective of the project has been accomplished.
Chapters
Frontmatter

Modenity and Contemporaneity: An Introduction

The Post-modern and Modernity from the Point of View of the History of Philosophy

Modern Subjectivity and its History

Hans-Georg Gadamer and the Contemporaneity of Classical Greek Philosophy

Depersonalization of Absolute Knowledge?

Animal Protection and Welfare: Contemporary Examinations

Artificial Intelligence in Healthcare: Rethinking the Notions of Responsibility, Causal Inference and Empathy

The Overcoming of Aesthetics

From Modernism to Contemporaneity: On the Magic of the False Name

Is Morality Immune to Luck, after All? Criminal Behavior and the Paradox of Moral Luck

Dignity and the Form of Human Existence

Discussing Normative Ethical Reasons and Moral Realism with Kant: A Meta-Ethical Perspective

Waxing Knowledge, Waning Moods

Contributors

Backmatter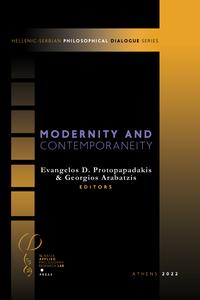 Copyright (c) 2022 NKUA Applied Philosophy Research Lab Press & Filozofski Fakultet Novi Sad
This work is licensed under a Creative Commons Attribution 4.0 International License.
Details about this monograph
Co-publisher's ISBN-13 (24)
978-618-85619-4-6